Any Given Sunday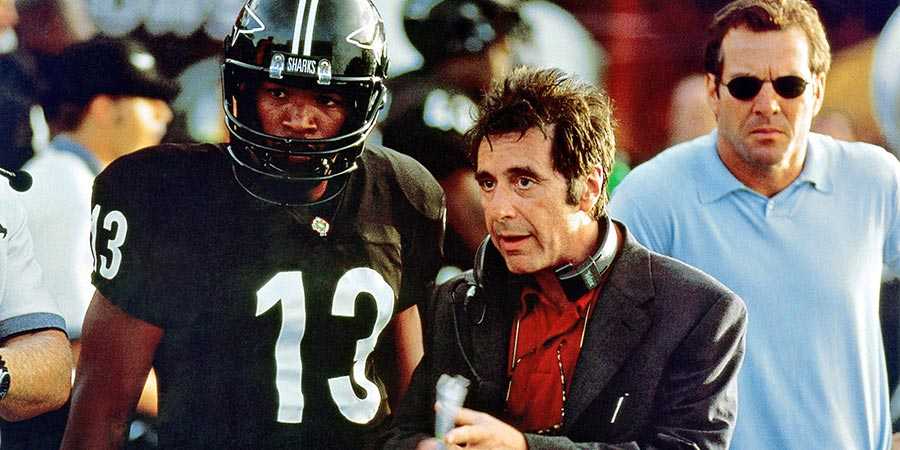 Jamie Foxx, Al Pacino, and Dennis Quaid in 'Any Given Sunday'
Oliver Stone's intensity as a filmmaker served him well as the director and co-writer of this story about a fictional professional football league. And considering how 'Any Given Sunday' takes on some of the uglier aspects of pro ball, it's not a surprise that the NFL wouldn't allow Stone to use any real-life team logos or stadiums. Al Pacino plays a long-time, respected coach under pressure for missing the playoffs last season, and Dennis Quaid plays the veteran quarterback, determined to make a comeback (although his body may not be up for it).  Soon we see Jamie Foxx as "Steamin" Willie Beaman, an unexpected replacement quarterback with a chip on his shoulder. Sparks fly between these three and almost everyone else involved in the team, including the team owner and general manager (Cameron Diaz), the unethical team doctor (James Woods) that keeps players on the field at all costs, and a star running back (LL Cool J) more focused on his own incentive clauses than the team's successes. Rounding out the cast are Lauren Holly, Ann-Margret, Aaron Eckhart, Matthew Modine, John C. McGinley, Elizabeth Berkeley and NFL veterans Lawrence Taylor and Jim Brown. Stone's approach is as much a commentary on professional football as 'Wall Street' had cynically addressed high finance and 'Natural Born Killers' riffed on media fascination with serial killers. Bone-crunching game sequences and fiery dialogue help 'Any Given Sunday' capture the increasing intensity of both the games and the business around professional football.
Invincible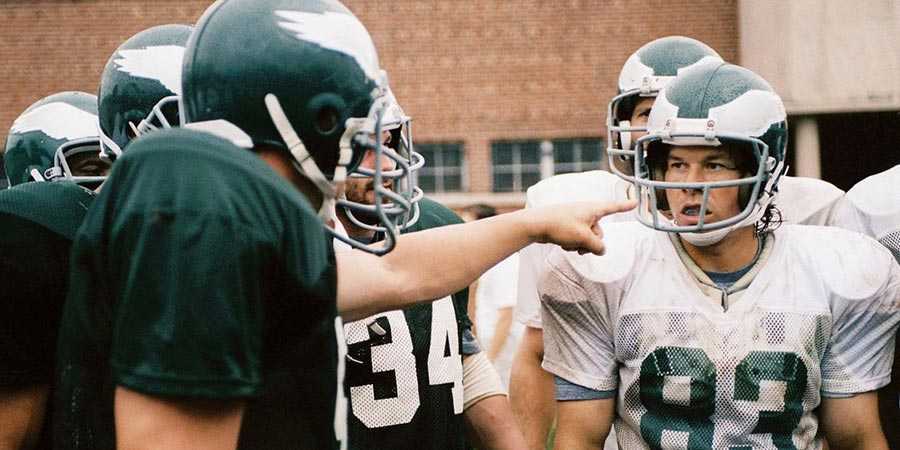 Mark Wahlberg as Vince Papale in 'Invincible'
As Philadelphia suffered industrial job losses in the 70s, morale wasn't helped by the Eagles' losing every season since 1967.  Enter Vince Papale (Mark Wahlberg), a fairly unusual football prospect who became symbolic of the city's resilience. Papale hadn't played football in college (although he had played some semi-pro ball), and was much older than the average rookie. But in 1976, new coach Dick Vermeil (Greg Kinnear) is hamstrung by a lack of draft picks, so he opens Eagles tryouts, and a Philadelphia legend is born. Wahlberg lends a gritty determination to his portrayal of Papale, a Philly local encouraged by his friends to try out for the Eagles. And Kinnear's Vermiel is a talented, confident coach, but one that's driven to extreme measure to build a team. In the end, this hits all the notes of a classic underdog sports story, but it does that so well that even though you know what's going to happen, you're still happy to see it.
Draft Day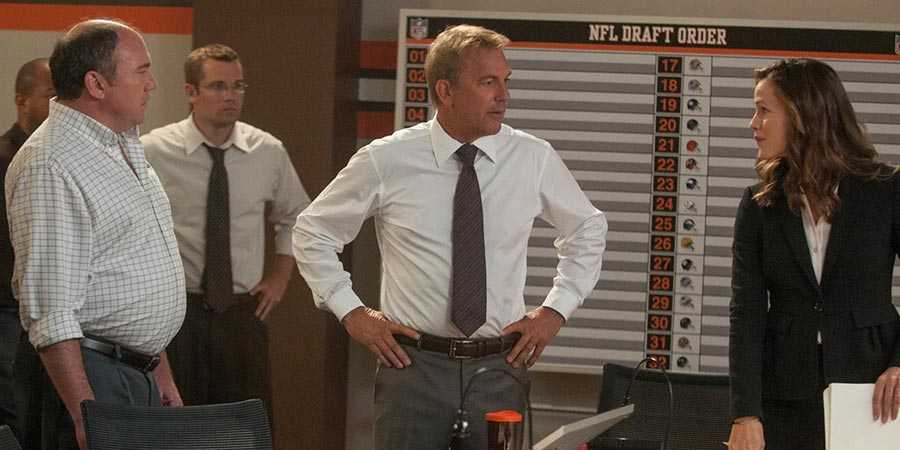 Kevin Costner (center) and Jennifer Garner (right) in 'Draft Day'
Where most sports movies make sure to include as much gameplay as possible, 'Draft Day' does something different.  The film instead focuses on a day in the life of the fictional general manager, Sonny Weaver Jr. (Kevin Costner) of the Cleveland Browns. Weaver is under pressure on the day of the NFL Draft because the team owner (Frank Langella) wants Weaver to "make a splash," but Weaver has his doubts about a highly-rated prospect who may be on the table. Meanwhile, his personal life is taking up some of his headspace; his girlfriend/co-worker Ali (Jennifer Garner) is pregnant, and Weaver has been arguing with his mother (Ellen Burstyn). Weaver spends a chaotic day navigating through the demands of the team owner, the needs of the team and the coaching staff, and his fraught personal life while he embarks on some complicated horse trading of current and future draft picks. There's a satisfaction in watching someone that's good at their job doing that job well, and 'Draft Day' delivers that in spades.
Two Days in April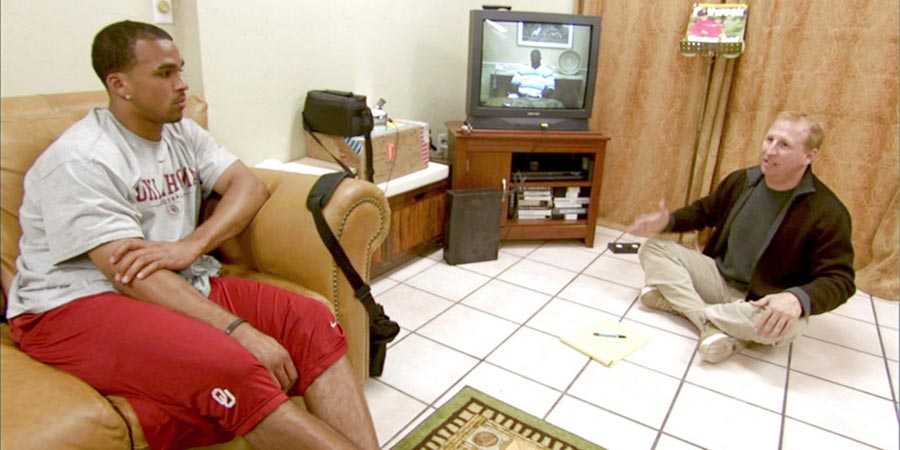 Travis Wilson (left) in 'Two Days in April'
This 2007 documentary film from director Don Argott is about four players preparing for the 2006 NFL draft. There's plenty of appearances from NFL veteran players and coaches, but the real drama is with the players on the emotional day of the draft. The tension behind the scenes was just as high as what was filmed, leading to a delayed release and the doc getting less attention than it should have.  But this fascinating, clear-eyed look at the draft process from the players' point of view shouldn't be overlooked.
Leatherheads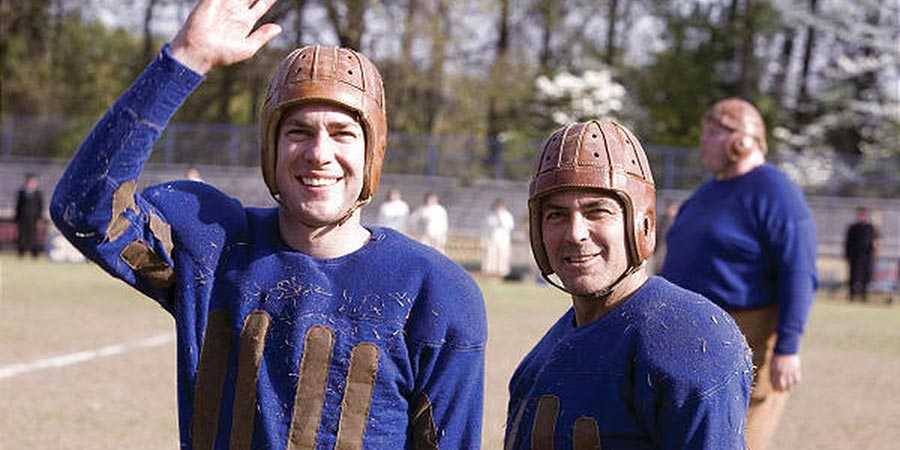 John Krasinski and George Clooney in 'Leatherheads'
Director George Clooney takes on the chaotic early days of professional football in this story (very) loosely based on Harold "Red" Grange's signing by the Chicago Bears in 1925. Clooney stars as Jimmy "Dodge" Connelly, the captain of the struggling Duluth Bulldogs. In an effort to turn the team around, Dodge signs Carter "The Bullet" Rutherford (John Krasinski) a star player and decorated WWI veteran.
The movie is as loopy as the brawling, trick play-filled style we see on the field, with Renee Zellweger as the sports reporter that's caught the eye of both Connelly and Rutherford. Clooney's direction combines screwball romantic comedy with chaotic, free-for-all football, giving us a light look at how the game was played way back when.
North Dallas Forty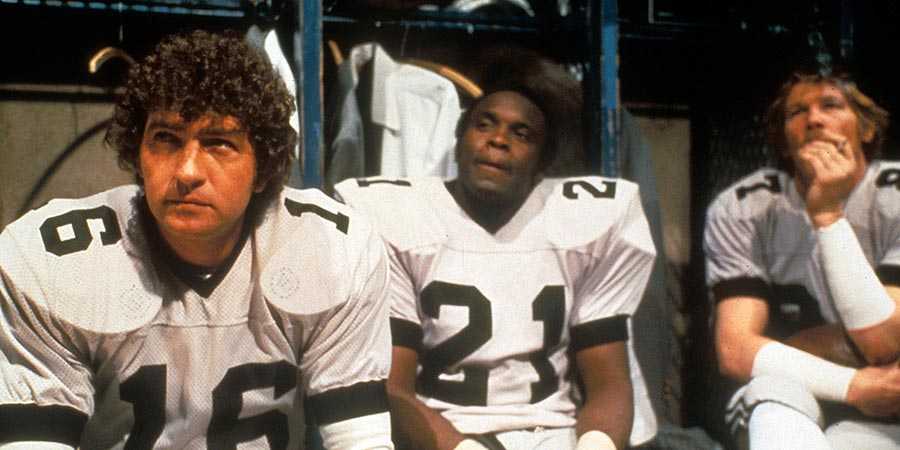 Mac Davis (left) and Nick Nolter (right) in 'North Dallas Forty'[/caption}
Loosely (very loosely) based on the Dallas Cowboys of the 70s, 'North Dallas Forty' is a story of a pair of football stars, wide receiver Phil Elliot (Nick Nolte), a jaded veteran, and quarterback Seth Maxwell (Mac Davis) who hasn't yet tired of the hard partying off the field.Since this is the 70s, sex, alcohol, and painkillers are standard elements of the ubiquitous parties off the field, but Nolte's world-weary Elliot may have finally had enough. 'North Dallas Forty' gives us a glimpse of the freewheeling past of pro football, far before every aspect of players and teams were examined by social media and the 24-hour news cycle.
Concussion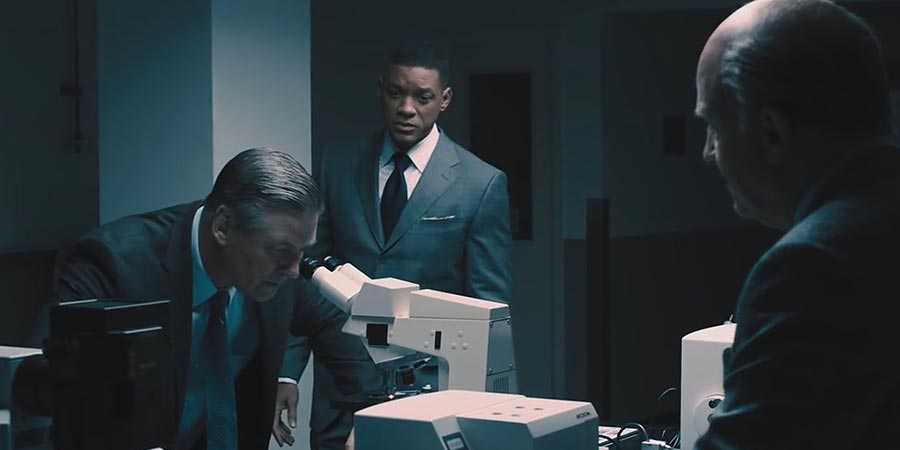 Alec Baldwin (left) and Will Smith (center) in 'Concussion'
Writer/director Peter Landseman takes a serious look at the physical toll professional football takes on players in this 2015 drama. Will Smith stars as neuropathologist Dr. Bennet Omalu, the man who discovered chronic traumatic encephalopathy (CTE), a degenerative disease affecting NFL players and other athletes. Smith's Omalu is soft-spoken but fiercely persistent as he tries to get the NFL to acknowledge and address the health crisis he's unearthed. The discovery of CTE leads to a Congressional investigation and lawsuits from hundreds of players against the NFL, and the film gives us a sobering look at Omalu's work and the league's unwillingness to accept his findings.
Brian's Song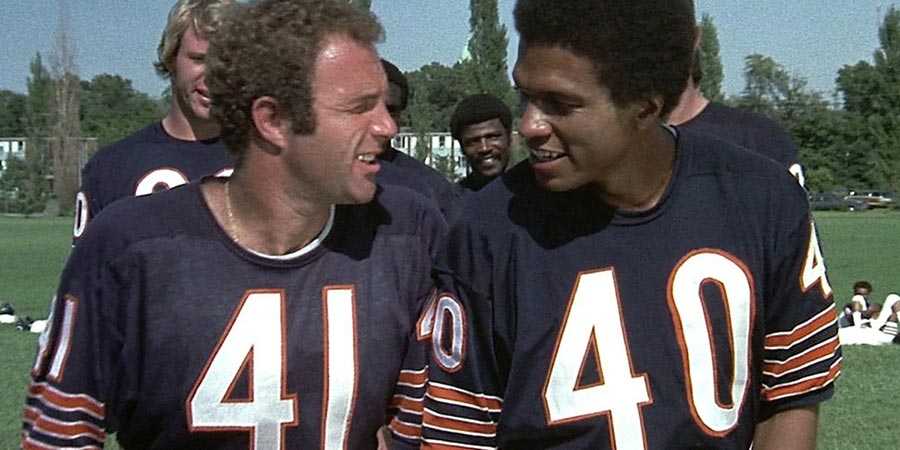 James Caan and Billy Dee Williams in 'Brian's Song'
We've saved the saddest and arguably the best movie for last. 'Brian's Song' tells the true story of the deep friendship between Brian Piccolo (James Caan) and Gale Sayers (Billy Dee Williams), both rookie wide receivers for the Chicago Bears. Although they eventually get the chance to play at the same time, with Piccolo now at fullback, Piccolo's cancer diagnosis keeps him off the field, cutting short their time together. Williams' Sayers isn't afraid to be emotional with his teammates about the loss of his friend, making this film one of the iconic portrayals of male friendship. Like 'Rudy,' this football film is all but guaranteed to get tears out of even the most stoic of men.