This past year, most of us couldn't go out to the movies with our friends and spend way too much money on overpriced movie food. Instead, we stayed indoors where a lot of people (2.5 BILLION of you world-wide!) played video games! But we also watched movies… just on a smaller screen than we're used to.
These two great mediums cross over a lot, either with movies made into games, or games turned in to movies. But let's focus movies as the starting point – here's a list of a few movies released in 2020 that would make great video games!
Birds of Prey (and the Fantabulous Emancipation of One Harley Quinn) (directed by Cathy Yan)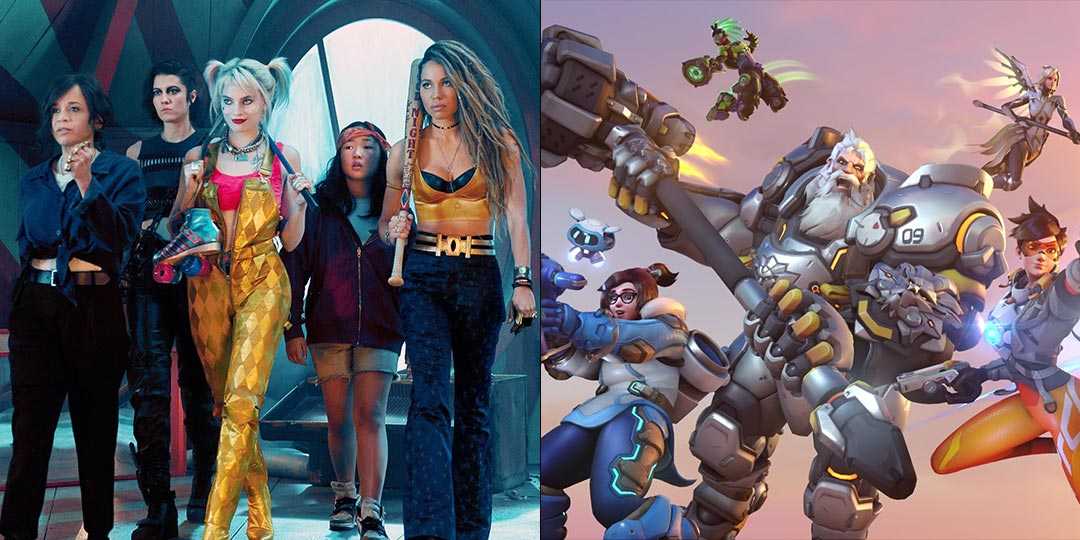 'Birds of Prey' and Overwatch
When I first saw 'Birds of Prey' in theatres, I immediately thought the movie gave off a huge Overwatch vibe. Each main character stands out in both personality, abilities and costume. Anyone who has seen even just art from Overwatch can tell which character is which, and that's something Birds of Prey did as well. The bright colors and individual powers seen in the movie that would totally rock in an Overwatch-style game. Imagine being able to choose your character and their weapon loadout before a level against Black Mask's goons, each character having different abilities and playing completely differently than one another! Just beware of arguments about who's going to play as Harley…
Tenet (directed by Christopher Nolan)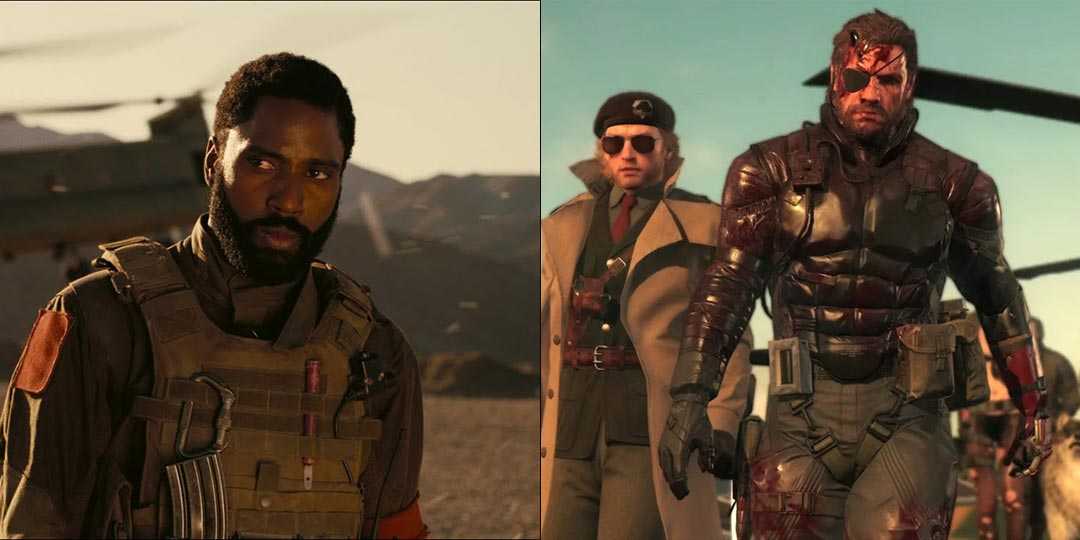 'Tenet' and Metal Gear Solid
Let's be real, Nolan is a class act when it comes to cinematic action. Any Nolan film pretty much guarantees impressive visuals and crazy clean action scenes. But what video game director does the same thing? Hideo Kojima, creator of Metal Gear Solid and Death Stranding. Like Nolan, Kojima displays a love for the cinematic spectacle, so just imagine a Kojima-created action title based on Tenet! Or think of the Uncharted series from Naughty Dog, with games that rival any Nolan film with their depth, cinematic set-pieces, and gripping action. And with the capabilities of next-gen consoles, there's enough processing power to enable the use of controlling in-game, narrative time and even having fights be seamlessly played both forwards and backwards. And you can't have a 'Tenet' video game with time not being a part of it, can you?
Onward (directed by Dan Scanlon)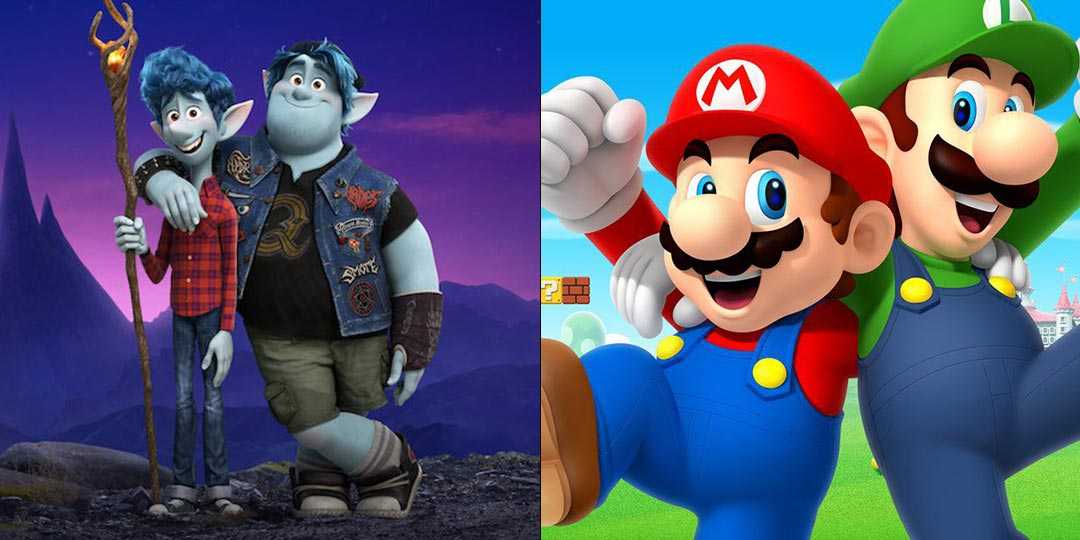 'Onward' and the Mario Bros.
How can we get through this list without a great animated film that would make an even greater platformer? Disney and Pixar constantly hit it out of the park with animated features, and 'Onward' is no exception. What also makes 'Onward' fit in with other Disney properties is how easily it would translate to a video game! Any gamer watching 'Onward' could immediately imagine what an awesome platformer it would make. Think of the Nintendo's open-world Mario 64, an all-time great. But instead of jumping into pictures or flying to other planets in your hat-shaped spaceship, you're on an insane road trip with your older brother, on the quest to bring your dad back! Imagine the hub is a 3D map, with you driving that van to each level. Like a Mario game, you would have your slew of collectables, platforming challenges, and each area, from the Manticore's Tavern to the motorcycle pixies chase, would have its own look and color palette. And of course, you'd also have a game meant for all ages. Besides, who doesn't love a platformer these days?
Host (directed by Rob Savage)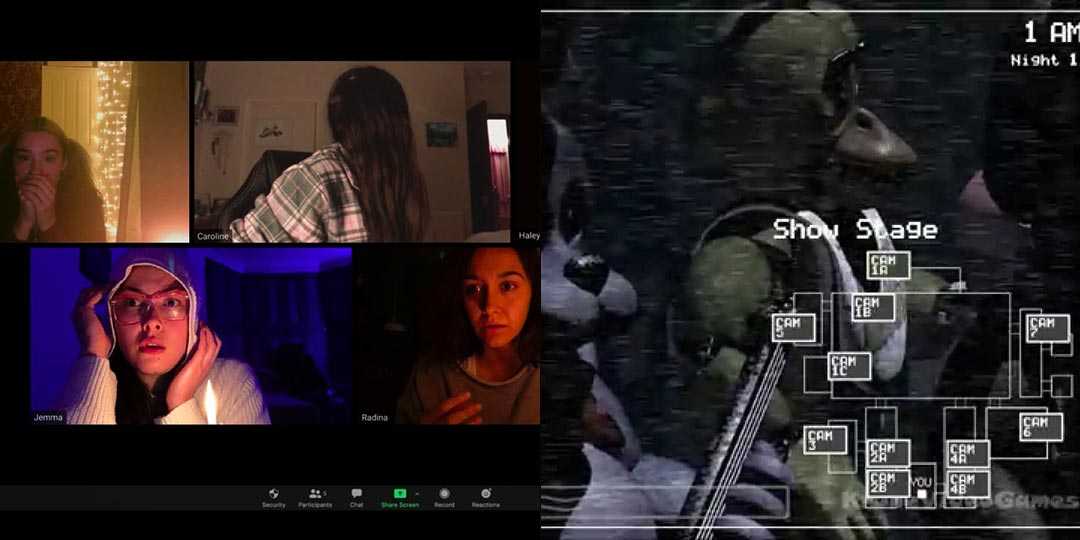 'Host' and Five Nights at Freddy's
It can't be a long-term quarantine without a horror film that hits incredibly close to home! But 'Host' could also capitalize on a very specific game genre. A few years ago, the horror game genre exploded with the popularity of "single-room" horror games. The description pretty much speaks for itself; games that seemingly take place on one screen, in one room. Obviously, you can thank the likes of Five Nights at Freddy's and Her Story as a result of that boom. And horror fits this genre well, bringing a type of tension that other horror game titles just don't replicate. 'Host' takes place on a single screen with multiple frames, following six friends as they attempt a séance via Zoom. If that was a game story, you would be switching from frame to frame, trying to save your friends as an unknown entity stalks them. And as it's on a computer, gameplay would include voice and text chat with the other characters, tracking their devices, etc.Lockdown was made a little easier with as the last year gave us a slew of great video games and movies as well. And if you're spending time with both, you might be seeing how much each medium has taken from the other. Filmmakers are starting to subtly (and not so subtly) take their inspiration from gaming and the genres they follow, and games use film elements even outside specific adaptations. Hopefully, this list puts some movies on your radar you may have missed, and we hope it also encourages you to seek out some games that you maybe haven't tried yet!